Marisa Silver's phenomenal new novel…History is not a succession of icons or frozen moments but of messy lives lived, of people doing what they can with what they've got. Therein lies the power of this novel, and the Novel; Silver wields it here with grace and devastating ­effectiveness.
The book is at its brilliant best at the taking of the famous photo, when Mary "put her hand to her chin and worried the tiny scar that remained from when her mother held a quarter in her hand and cut her across the jaw." The quarter, we know, was money Mary earned herself, by allowing a white man to take her picture. "Mary Coin" is ribboned with imagery like this—spare and stunning, throbbing with resonance.
Throughout her novel, Silver tackles big questions about the morality of art and, in particular, the exploitation of subjects in photography. Indeed, Silver herself "exploits" Lange's famous photo here for her own powerful ends. Sometimes artists have to be selfish in that way. To paraphrase one of the greatest and most selfish of them all, Pablo Picasso, artists are trying to create lies that tell the truth.
[Mary Coin tells] the intersecting stories of Vera Dare, a photographer modeled on Dorothea Lange, and Mary Coin, a half-Cherokee woman based on Florence Thompson, who inadvertently became an icon through Lange's famous 1936 photograph "Migrant Mother"…Silver illuminates the women behind that picture, weaving in the character of Walker, a professor investigating his mysterious connection to the picture more than 70 years after it was taken.…the book's nuanced considerations of photography and its dynamics prove that Ms. Silver is capable of greater complexity. Vera muses that taking another person's photograph is "more complicated than sex, than children. Or maybe it was the exact expression of those complications, which included intimacy and distance, holding and turning away, lies and never the truth.
Marisa Silver has written an outstanding novel portraying two women of immense historical significance to 20th century America…Reading "Mary Coin" becomes a shared experience; a book and a reader as one. Once the last page is turned, the reader will have to determine several things—just what has Walker Dodge found out, and, do I keep this book to read again later or pass it on to a friend who needs a really good book?
This dual portrait investigates the depths of the human spirit, exposing the inner reserves of will and desire hidden in both women. Though their paths cross for a brief moment, their fates—stretching into succeeding generations—are permanently altered by the meeting. The luminously written, heart-wrenching—yet never maudlin—plot moves back and forth through time, as history professor Walker Dodge unpeels the layers of the photograph's hidden truths.
Mary Coin is quite simply one of the best novels I have read in years. 'You'll know who you are when you start losing things,' says one character, and the story burns in this quietly emphatic way, only to erupt in moments of excruciating pain and beauty. In her portrayal of a time in American history when survival was often a day-to-day thing, Silver drills down to the absolute essentials: family, love, loss, the perpetual uncertainty of life. Again and again I found myself wondering, How does she know that? Silver's wisdom is rare, and her novel is the work of a master.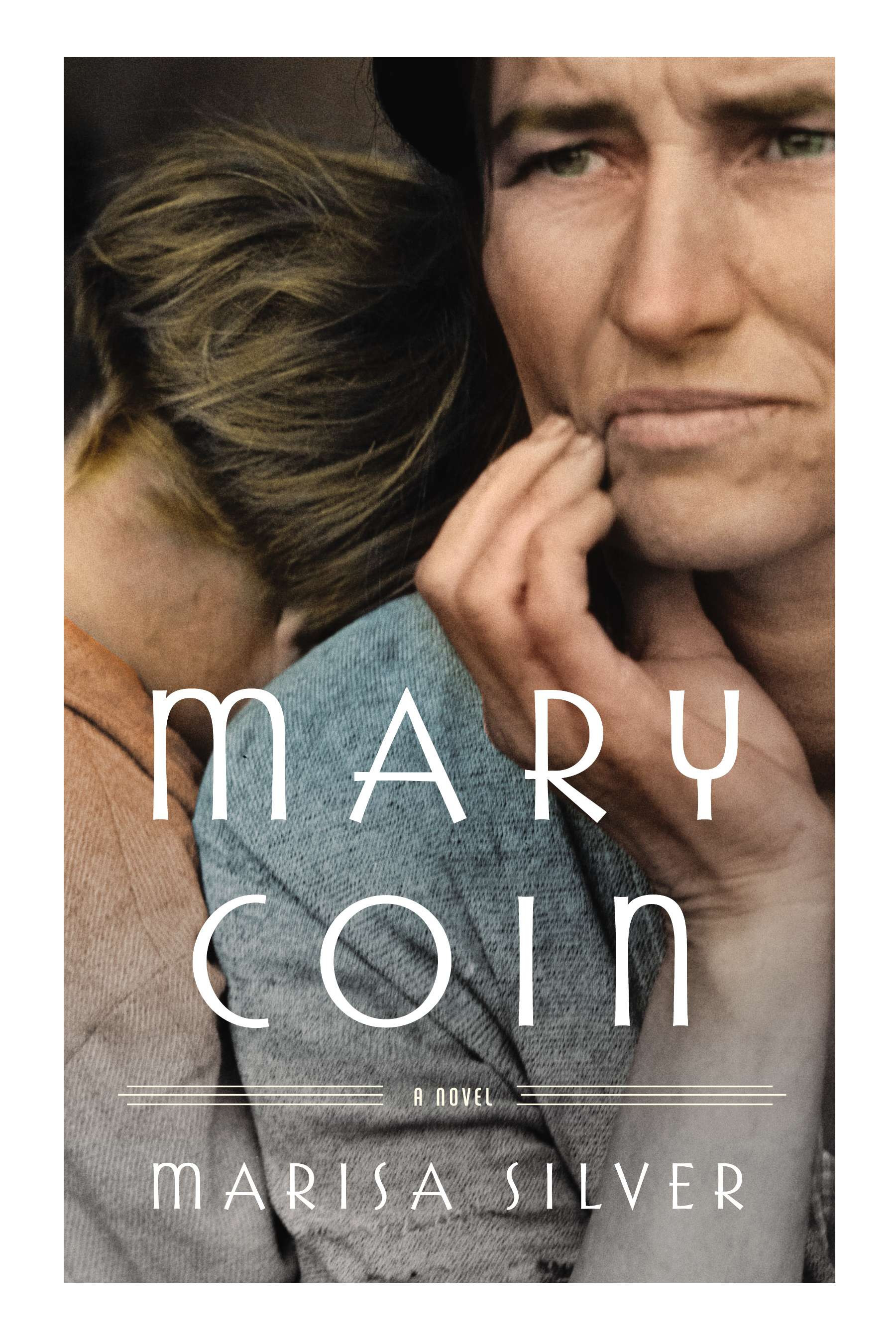 I read Mary Coin in a day — eager to know who this 32-year-old migrant mother was and willing to imagine how it must have felt to be known for all time for an instant in time, to be invaded by conjecture of both the casual and novelistic sort. A photograph is a single snap. In "Mary Coin," Silver suggests all that echoes after that.
Marisa Silver's "Mary Coin" is a flawless novel, the story of two tenacious women coming of age in 1920, gorgeously told in prose that is simultaneously economical and lush.
A hugely powerful imagined account of how the iconic Dorothea Lange Depression-era portrait "Migrant Mother" might have come to be made, framed by a modern story of a California professor who has built a career around ephemera and images of the past. The book is a moving page turner and I hated to see it end. I did a Q&A with Silver over the weekend and feel certain "Mary Coin," which plays in glorious ways with history and our perceptions of it, will be on many best of 2013 lists.
It is (Silver's) great achievement in these pages to embody those themes in three characters so unlike each other in both temporal and social terms but like all of us, discovering comfort in the past and hope in the future.
The reader begins to sense the pending intersection of the women's lives, and the way their stories fit in with Walker's—with the evolution of photography providing a thematic link across the decades—is so well constructed that you can appreciate each narrative thread on its own.
Mary Coin is the fictionalized story of [the "Migrant Mother" photograph], with Mary standing in for the actual subject, Florence Owens Thompson, and Vera Dare standing in for Dorothea Lange.…a story ready and waiting for a fictionalized treatment. And Marisa Silver does it full, glorious justice. The story is compelling and honest, never sentimentalized or made easy, the writing exquisite in its luminous clarity. Silver accomplishes much in this work, including giving a human face and story to overwhelming disaster, just as the original photograph did.…Silver's story is artful in a way that life often is not, carrying the story of one family through several generations.…This novel is simply not to be missed. It is memorable.
An extraordinarily compassionate and wise novel, Mary Coin imagines the life of Dorothea Lange's iconic "Migrant Mother." What emerges, in Silver's nuanced, resonant telling, is a poignant exploration of a single life that touches many others, and a powerful, moving portrait of America during the Great Depression. Silver is one of those preternaturally gifted writers who can with the lightest of touches make the reader enter a world that feels as fully real as the one around us.
Transfixing… Silver intricately links the three characters, creating a raw and emotional tale that leaves readers with a lingering question: Do photographs illuminate or blur the truth?
[MARY COIN] is a skillful, delicate apprehension of that photograph and its moment in history… The two female leads seem deep and real in Silver's fictionalization, strong in different but crucial ways… Silver is the right writer for their story. She's a fine, delicate stylist, with an aphoristic style that fills even simple moments with meaning.
Silver…is a marvelous writer, capable of stirring profound emotions one moment, intellectual reflection the next.
Mary Coin is as expertly cropped and framed as a fine photographic print.
Dorothea Lange's iconic "Migrant Mother," a photo of a weary young woman with her children, came to encapsulate the quiet desperation of the Depression era. Silver's arresting novel imagines the lives of the women behind the famous portrait. Mary, a struggling mother, and Vera Dare, an ambitious photographer.
What sets Mary Coin apart…is that Mary's life pulses with real and relatable humanity before and after her moment as an artistic subject… What Silver ultimately does in creating characters rather than extrapolating icons is in line with Auden's poem "Musee des Beaux Arts," in which he writes about what happens at the margins or beyond the frame of a Breughel painting. "[W]hen the aged are reverently, passionately waiting / For the miraculous birth, there always must be / Children who did not specially want it to happen, skating / On a pond at the edge of the wood." Mary Coin is set, to its credit, on the edge of the wood.
Mesmerizing… the acclaimed author's best work to date
MARY COIN is a well-written, powerfully quiet, and haunting novel. Marisa Silver lovingly and painstakingly brings to life those who were behind the photograph of a woman whose expression of desperation and pain etched on her face still speaks to us almost a century later.
Mary Coin is a moving, beautiful companion to "Migrant Mother." Once you read it, you will never look at the famed photograph the same way again.
In "Mary Coin," Silver takes a picture and spawns the proverbial thousand words many times over. The result is a stirring human portrait of two women and the times they lived in.
For a book about the loss, poverty, and alienation of the Great Depression, "Mary Coin" is a lovely and deeply satisfying read. Each of these characters is fully realized and amazingly sympathetic; their cumulative story a worthy, nuanced tribute to an indelible image. The gradual discovery of how these disparate lives intersect proves a riveting plot device, thanks largely to Silver's considerable intelligence and trust in her readers . But perhaps Silver's biggest accomplishment is in writing such a faithful update of the 19th-century social novel without coming across as recherché. "Mary Coin" boldly engages the same sweeping themes as did Frank Norris and his ilk: life, death, class, politics, and even meaning. Silver exceeds her own ambitions, creating a world that places the blame squarely on the shoulders of conditions, not men; one in which her characters experience "the same history… from opposite sides of fate." In the end, she achieves the aims of her historian, discovering—explaining—how history actually happened to people.
This resonant novel, teasing clues from a famous photograph, keeps us both looking and seeing. And admiring.
(Silver's) rich, engaging style and unique blend of fact and fiction have inspired comparisons to Joan Didion, Nathanael West, and Raymond Chandler
Dorothea Lange's iconic Depression-era photograph "Migrant Mother" inspired Marisa Silver's MARY COIN (Blue Rider), a novel that deftly contrasts the consequences of the image's fame for the photographer, a society portraitist who leaves her children to pursue her work — and her Steinbeckian subject.
An "extraordinary work of fiction."
As you travel through the years with these characters, you begin to realize that the specific set of circumstances that tied these three people together aren't their only bonds. The absolutes of family, love, responsibility, truth—these are the elements that connect us, stretching across generations.
Gorgeous… This narrative of mid-century hope, loss, and disenchantment is both universal and deeply personal. With writing that is sensual and rich, [Silver] shines a light on the parts of personal history not shared and stops time without destroying the moment.
Marisa Silver renders the soul of an iconic image, giving it moving life. Mary Coin is a soaring work of imagination, dedication and history.